Blood mistakes could be catastrophic, Betsi Cadwaladr Health Board says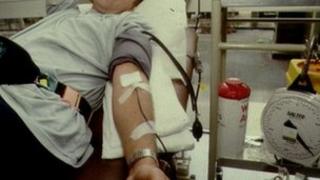 Mistakes made by staff in recording blood transfusion samples in north Wales hospitals could be "catastrophic," a report warns.
Betsi Cadwaladr University Health Board's hospitals are forced to reject an average of 7% of blood samples being cross-matched for transfusion.
A report highlighting the issue was discussed by board members in Wrexham on Thursday.
It says the overall rejection rate for all blood samples is below 0.1%.
Seven blood samples in every 100 sent to hospital laboratories in north Wales which are being cross-matched for transfusion are rejected because staff may have made mistakes in recording them.
A report says pathology labs often have to reject samples sent to them from primary and acute care areas because patient details on the samples do not tally with details on the forms.
"There are also incidents where samples are collected and rested, but results are not compatible with previous samples, which may be the result of either sample being taken from the wrong patient," it says.
Work pressures
The report adds: "It is too dangerous to process samples with mismatching information as the risk is high that the results would be placed against the wrong patient."
It adds that incidents involving such blood samples "could also be catastrophic" and require external reporting to the Serious Adverse Blood Reactions and Events and to the Medicines and Healthcare Products Regulatory Agency.