Wrexham Seven Stars pub's new start as Welsh centre Saith Seren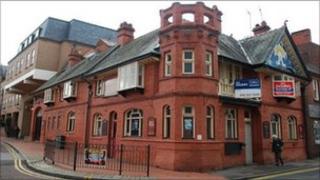 A former Wrexham pub is opening its doors again in an attempt to get local Welsh speakers to have a drink and a chat using their own language.
The Seven Stars on Chester Street has been renamed Saith Seren, a direct translation, and is being run by the newly-formed Wrexham Welsh Centre.
The venue has brewed its own beer and is looking for help from the public to name the drink.
The centre has its formal opening on Saturday.
Former Welsh learner of the year and Wrexham Supporters' Trust member, Spencer Harris, and ex-Wrexham manager and player Dixie McNeil will appear at the launch event on Saturday.
Saith Seren's chair, Wrexham councillor Marc Jones, said: "Both Spencer and Dixie in their different ways are local heroes and, as well as promoting the Welsh language and culture in all aspects of Welsh life, Saith Seren is also about celebrating local achievement and pride in Wrexham.
Community facilities
"Both Dixie and Spencer have done their bit in making our town somewhere to be proud of."
Meanwhile, customers through the door are being asked for suggestions for the new beer, which is being brewed with the help of Pene Coles from the Sandstone Brewery, who sits on the centre's board of directors.
Mr Jones said: "We have the ale on draught at the bar and we're inviting customers to think up a suitable name.
"We've already had a few suggestions and, as people sample this new brew, I'm sure we'll get a few more."
As well as the new beer, the bar will be serving other Welsh beers and real ale as well as locally sourced food.
Although the aim is to promote the use of Welsh, the centre is open to all members of the public, and as well as food, drink and entertainment the centre hopes to offer meeting rooms, community facilities and office space.
Work is continuing to refurbish the upper level of the building.
Centre manager Amanda Hughes said: "Our staff are all in place in the bar and kitchen and we've had great support from volunteers to get everything ready in time.
"We're gearing up for a busy weekend - Friday night is already sold out and we have another live band on Saturday with free admission."
The pub was built in 1898 and previously operated as a cinema. It is a Grade II listed building.