Wrexham Hoard goes on display at Wrexham Museum for first time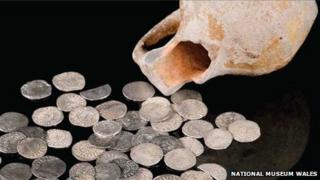 A hoard of medieval coins found in Wrexham in 1926 has gone on public display in the town for the first time.
The coins were unearthed in a jug in the garden of a house on Chester Road before eventually being donated to National Museum Wales.
The English short-cross pennies date from the reigns of Richard I (1189-99), John (1199-1216) and Henry III (1216-72).
Expert say they may have been buried for safekeeping in the 1240s.
Jonathon Gammond from Wrexham Museum said when the Wrexham Hoard was discovered the coins were shown to a handful of people, including a bank manager.
Over 40 years later the house was sold and the new owner found the jug and coins in a cupboard as the previous owner had left them, believing they were associated with the property.
The new owner declared them to the police and an inquest was held to determine their fate and, although they were returned to the home owner, he gifted them to the national museum.
They have finally returned to Wrexham as part of an exhibition called Medieval Minds which explores themes of life at that time through archaeological finds and manuscripts.
National collections can now be shown in Wrexham after a £2m refurbishment at the museum last year.