Costa Concordia: Sandra Rodgers lost husband's ashes in escape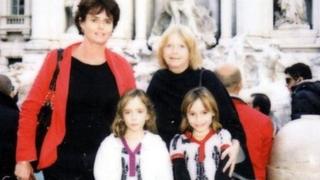 A British woman has told how she escaped the Costa Concordia after it ran aground, and lost her husband's ashes in the struggle to a lifeboat.
Sandra Rodgers, formerly of Flintshire, was separated from her daughter and twin granddaughters in the "completely chaotic" rush to leave the cruise ship.
She had planned to scatter the ashes of her husband Barry at Monaco.
Mrs Rodgers, 62, who now lives on the Spanish island of Menorca, has engaged travel law experts to act for her.
"The evacuation of the ship was completely chaotic," said Mrs Rogers, who used to live in Caergwrle, and has now returned to Menorca.
"There was certainly no 'women and children first' policy. It was disgusting."
She was travelling with her daughter Karen, 39, and seven-year-old twin granddaughters Emma and Chloe.
She added her voice to claims that passengers were told to return to their cabins.
Mrs Rogers said: "I lost my daughter and my grandchildren in the chaos whilst we were being told by the crew that there was a simply a technical problem.
'Thank God'
"We were also told by crew that we should go back to our cabin. Thank God we didn't do as they had told us as we may not have made it off the ship alive.
"I was standing by the lifeboats and men were banging into me and knocking the girls.
"And when we finally got into a lifeboat, other passengers and crew were also trying to jump into the boat. I thought 'if they land in here we are going to capsize'.
"There was no-one telling us where to go and it was only when we got on to the island that we got some help - from the islanders.
"There were no emergency services and the cruise staff had all disappeared. The people of the island were a godsend."
At least 11 people died after the Costa Concordia ran aground off Italy's coast exactly a week ago with some 4,200 people on board.
The rescue operation has been suspended once again after the wreck shifted on the sea ledge on which it rests.
'Dreadful'
It is the third time the search has been called off, amid fears the ship could suddenly slip into deeper water.
Mrs Rogers said she and her daughter had decided to take the cruise after she lost her husband and father last year.
"We had planned to scatter Barry's ashes when the cruise passed Monaco, because Barry had always wanted to see the Monaco Grand Prix," she said.
"It's dreadful but his ashes were lost on board the Concordia as well as other family heirlooms from my late mother and father.
"We have all been deeply affected by what has happened and I also injured my arm during the evacuation of the ship and have had to have medical treatment in Menorca."
Mrs Rogers is among several passengers to have instructed travel law experts to act for them since the incident
Clive Garner, partner and head of Irwin Mitchell's international law team, who represents Mrs Rodgers and her family along with others, said: "As well as the official investigation we are working with colleagues in Italy and maritime safety experts to understand exactly how the Costa Concordia came to run aground."