Bees 'could deter vandals' at Greenfield heritage park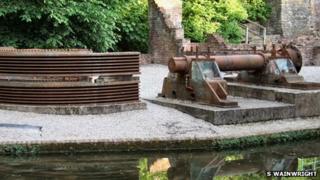 Heritage park bosses could use bees to act as a deterrent to stop vandal attacks on historic buildings.
They are looking for sustainable ways to protect old mill buildings at Greenfield Valley Heritage Park, near Holywell, Flintshire.
One idea already tabled is using bees to deter people from going into the protected buildings.
A planning application is due to be submitted to Flintshire council to erect fencing around some of the sites.
An area around Greenfield Mill had to close last summer due to concerns it was in a dangerous condition, with surrounding footpaths also shut to walkers.
Park manager Chris Wright said the deterioration was partly due to age as well as vandal attacks.
He said it would be difficult to deter people determined to get into buildings on the free access public site, making the idea to use bees "seem sensible".
He hopes a beekeeping group could use the land to produce honey, with the bees themselves helping to pollinate wildflower meadows which could also be created in the area.
Safety issues
"They could be a deterrent," said Barbara Chick, publicity officer for the Welsh Beekeepers' Association.
"I haven't heard of them being used as security bees."
However, she pointed out there may be health and safety issues if someone was stung and said she would not agree to their use as a security measure.
Planning permission to erect fencing around Greenfield Mill is to be sought to allow paths to reopen while discussions continue about how to stop the further decline of buildings, while managing and encouraging wildlife around them.
Mr Wright said the main issue had always been striking a balance between the environment and wildlife on one hand and historical and industrial concerns on the other.
He said aerial photos recently uncovered from the 1930s show little flora and fauna, whereas today the whole site was covered in trees and vegetation.
And there has been proof of otters using the water course and ponds which served the old mills in the valley close to St Winefride's holy well, as well as sightings of a goshawk and other birds of prey.
The 70-acre (28 hectares) heritage park, which includes a museum and farm, is owned by Flintshire council and managed by trustees from The Greenfield Valley Trust.