Flintshire firm CRT Recycling to close in Environment Agency row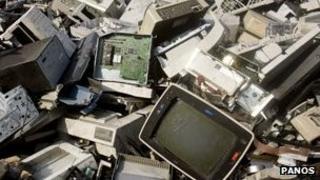 A Flintshire recycling firm has blamed Environment Agency rule changes for its decision to close with the loss of 30 jobs.
CRT Recycling in Mold claims it is being forced into closure saying the company had "essentially been given three months to change everything".
It said the changes involving cathode ray tubes would have cost "hundreds of thousands of pounds to continue".
The Environment Agency said it does not understand why the firm is closing.
"To protect local rivers and the wider environment, every site that recycles cathode ray tubes must make every effort to contain the dust and screen coatings from the process," said an Environment Agency spokesperson.
"This is a condition of the environmental permit that sets standards for the site that have to be followed.
"We met with CRT Recycling Tuesday, 10 January to see if and how any improvements could be made in the way it deals with cathode ray tubes onsite.
Insolvency advice
"This was only the start of the review of their processes and we would expect the company to carry on with its activities as improvements are made.
"We do not understand why the company would decide to stop its operation because of this."
CRT recycles cathode ray tubes from its base in Rhydymwyn and said following the meeting with the Environment Agency on Tuesday that it is now seeking insolvency advice.
Managing director Carl Krüger added that the Environment Agency "didn't require us to close down, they required us to do things that would make us close down".
He added: "The EA requirements would now require large-scale financial expenditure and, as they well know, a contentious planning application involving a lengthy and difficult period of consultation with local residents.
"Throughout a build programme we would be unable to accept CRT glass for several months, and would have to increase gate fees to a level which would result in glass supplies simply going elsewhere.
"We struggled to have our views heard as, despite holding 30% market share, we were not invited to sit on their consultative group and have had to use the Freedom of Information Act to acquire data on the agency's testing conclusions."
But the Environment Agency said during Tuesday's meeting, it only required a review of CRT's measures to meet the accepted environmental standards.
It added the rules are not new and this was raised with the site over a year ago and the agency made it clear that the company had time to comply.