Hearings examine council's Bodelwyddan homes plan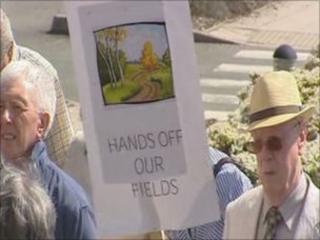 Controversial plans for 2,000 new homes in a village are being given a critical eye by inspectors at a month-long series of public hearings.
Denbighshire council's local development plan (LDP) has been drawn up to look at future housing needs in the county.
Councillors want to build most of the homes in Bodelwyddan, which currently only has a population of 1,000.
Opponents have already held a series of rallies against the plans.
After a month of hearings, starting at Rhyl Town Hall, Planning Inspectorate Wales will make a final decision.
The Bodelwyddan population of 1,000 could increase substantially under the proposals which form part of the county's LDP until 2021.
The scheme covers 100 acres (40.5 hectares), and also includes a school, residential care home and improved access to the A55.
Opponents, including the Bodelwyddan Action Group, claim the plans are unsustainable, while the Welsh Language Society claimed "Welsh language communities are at risk of disappearing forever partly because of plans like this".
Despite the opposition, the council voted in May 2011 to proceed with the LDP, and the proposals were submitted to the Welsh government.
Planning Inspectorate Wales will consider the plans at a series of meetings before making a final decision.
'Planning blueprint'
Denbighshire's cabinet lead member for environment, Councillor Sharon Frobisher, said: "It has been years in the making and will form the planning blueprint for the county up until 2021 once adopted.
"It is now up to the planning inspector to review the whole document through the examination in public process before he gives his final report as to whether changes need to be made to certain aspects of the plan or whether the plan is able to be adopted as it stands."
Derek Barker, of the Bodelwyddan Action Group, said the hearings would examine whether the council had followed all the necessary procedures.
He added: "We say 'no they didn't'. They always intended this site for their plans.
"We also say county plans shouldn't begin and end with housing numbers.
"They should be bringing in decent jobs first of all, and all the other things will follow."
The first hearing was taking place at Rhyl Town Hall on 10 January.