Pontcysyllte Aqueduct visitor centre gets £125,000 upgrade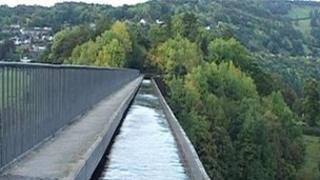 Plans to extend a tourism centre for visitors to Pontcysyllte Aqueduct have been approved by Wrexham councillors.
Officials want to improve facilities to boost visitors to the towering landmark on Llangollen Canal.
A local group says the plan could hit local businesses. But the council says retail will be limited to souvenirs.
A report says a wider network of new visitor facilities is planned along a 11-mile (17.7km) stretch of the canal made a World Heritage Site in 2009.
"This, in conjunction with the other improvements, will enhance the visitor experience and increase visitors generally to the area," said the report.
"The increased numbers of people visiting the area will help benefit the local communities."
A total of £125,000 is being spent on the project; £100,000 on the extension and £25,000 on visitor facilities such as picnic tables at Trevor Basin, near the aqueduct.
The Plas Kynaston Canal Group also opposed the plans due to highways issues, saying access to the aqueduct goes through a residential area.
In response, the report said the council's highways department raised no concerns or objections.
The world heritage route runs from Thomas Telford's Pontcysyllte Aqueduct and along the canal, passing through Chirk and Whitehurst tunnels, and over Chirk Aqueduct which, itself, is overlooked by trains travelling across Chirk Viaduct.
The Plas Kynaston Canal Group recently announced plans to use cable cars and re-instate a filled-in section of the canal, creating a marina, as a way to attract more visitors to the area.