Rhyl dispersal order to tackle drunks and troublemakers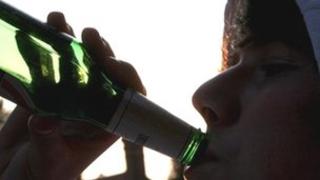 Anti-social behaviour and drunks around Rhyl's bus and railway station are to be tackled by an order allowing North Wales Police to order people away.
The dispersal order, which came in on Tuesday, also covers the Morley Road area and runs until 1 June.
Police and Denbighshire council have brought in the measure after complaints that shoppers and visitors were feeling harassed.
Police will be able to tell groups of two or more to leave the defined area.
The order also allows officers to order groups who do not live in the area to leave and not return.
Failure to comply could lead to up to three months imprisonment and/or a fine of up to £2,500.
Insp Jason Devonport said: "The dispersal order will be used as an additional tool to help tackle this issue which is clearly causing concern amongst residents and visitors to the town.
"Any individuals found drinking or behaving in an adverse manner within the area defined by the order will be dealt with robustly."
Rhyl recently imposed a similar order around the town's memorial gardens.