Jail for £86,000 eBay sport fraudster Christian Cassidy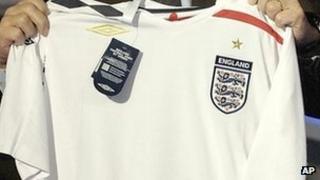 A man who made £86,000 selling fake sports memorabilia on auction website eBay has been jailed for 12 months.
A Conwy council investigation found Christian Cassidy, 36, faked signatures of stars including Pele, Ryan Giggs and Michael Schumacher on items he sold.
Mold Crown Court sitting at Chester heard on Monday he advertised them via his firm Fantastic Sales 2009.
Cassidy, formerly of Towyn, Conwy, but now of Wythenshaw, Manchester, had admitted fraudulent trading.
The court heard that among the items were England football shirts he claimed were signed by the World Cup squad.
He also sold signed photographs, flags, gloves, cups, programmes, golf clubs and helmets. Most were counterfeit.
An investigation under The Proceeds of Crime Act revealed he had made £86,000 in five months.
Judge Niclas Parry, who was told Cassidy had spent all the money, made a £1 benefit order to keep the investigation alive in case Cassidy came into funds in the future.
World Cup shirt
The judge said he had cheated the public and legitimate businesses and had put jobs at risk.
"Offences of this nature are easy to commit but very difficult and very expensive to detect," he said.
The inquiry began in September 2009 when an Umbro representative bought a bogus World Cup shirt from the site.
Cassidy admitted fraudulent trading in June, but sentencing was deferred in July to allow him to come up with the £25,000 it cost Conwy council to investigate him.
He had been told that if the money was paid into court then the jail sentence would be suspended.
John Philpotts, defending, said Cassidy was frightened of going into prison for the first time, and deserved maximum credit for his guilty pleas as he was clearly remorseful.
It was his case that he had also sold genuine items.