Plans for a biomass plant at Kronospan, Chirk, revealed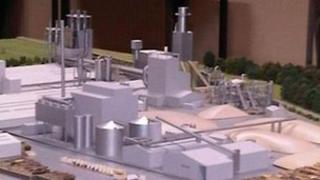 Plans for a biomass generating plant at a wood panel factory in Wrexham are to go on public display.
Kronospan says the 32 megawatt plant would generate electricity for use within its Chirk factory.
The company claims burning waste wood that would otherwise be taken to landfill is environmentally friendly.
It has not revealed the cost of the plant, which it claims will create 12 jobs and secure employment for the existing 600 staff.
The exhibition, at Chirk Parish Hall between 1300 GMT and 2000 GMT on Monday, is part of a wider consultation on the plant.
Factory director Mike McKenna said: "It's a clean operation that will meet the latest European standards."
Mr McKenna said the plant would be in operation in 2014 "at the earliest", and waste would be housed undercover to prevent dust being blown from the site.
Kronospan has told Chirk Town Council about its plans, but a planning application has yet to be submitted to Wrexham Council.