Heritage group calls for closed Bersham Colliery to become museum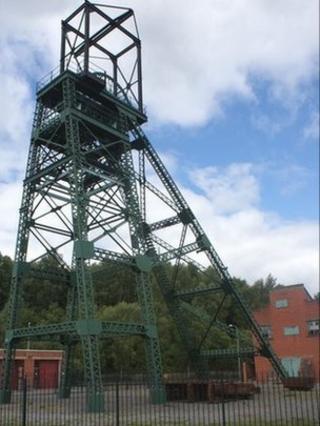 There is a call for Wrexham's Bersham colliery to be turned into a museum as a reunion marking its closure 25 years ago takes place.
About 480 jobs went when the pit - the Denbighshire coalfield's last - closed.
A miners' heritage group wants the site which still has the pit winding gear and engine house in place to become a visitor attraction.
Wrexham council said it supported the aims of the North Wales Miners Trust.
The council runs an enterprise centre at the Bersham site.
"We are currently in discussions with the trust and we recognise the significance of the miners heritage at the colliery," said Peter Scott, the council's investment and business development manager
A service organised by the North Wales Miners' Trust is being held there on Friday.
Former miner Keith Evans, who ended his career at Bersham, said: "It was a sad day but everybody knew it was coming to an end."
'Must preserve'
The North Wales Miners Association Trust said the site has the most original remains still intact from a former pit site in the region.
However, Bersham Glenside Ltd hopes to start moving six million tonnes of spoil from there for a range of uses, although it may take nine years to complete.
"What we need here is a museum," said Alan Jones, chairman of the trust.
"The heritage of Wrexham is all about mining and we must preserve what we've got.
"We have been very slow and should have been doing this 25 years ago."
He said Bit Pit mining museum in Blaenavon, south Wales, was a "fantastic" example, but too far away for people in north Wales to visit.
"We should have something here," he said.
Bersham was the last pit to close in the so-called Denbighshire coalfield, between Oswestry and Wrexham.
Mechanised extraction
But Point of Ayr on the north Wales coast was the region's last pit, closing in 1996.
Bersham Colliery site was originally a brickworks and some of the hand-made bricks were used to line the mine shafts.
By 1912, 878 were employed at the site, mining by hand up until 1935 when mechanised extraction was introduced.
In 1947 the National Coal Board took over at Bersham and conditions were said to improve when, in 1954, a new block was completed with pithead baths, canteen and offices.
At the same time, haulage engines were introduced to replace 100 pit ponies which were permanently stabled underground.
The largest workforce on site was in 1958 when there were 1,011 workers.
In 1971, there were 770 men producing 1,100 tons daily from the Ruabon Yard and Queens seams.
Although the last coal was brought up in December 1986, work continued into early 1987 to salvage equipment from underground.
Wrexham council says people can visit the site by appointment.