Road to be widened at Plas Coch retail park, Wrexham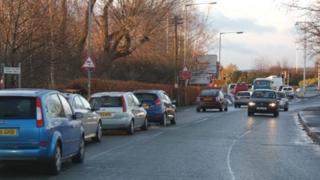 Work is due to start in the new year on a road-widening scheme to ease congestion at a well-known traffic hotspot in Wrexham.
An extra lane on Plas Coch Road will allow extra traffic from the nearby retail park towards Mold Road.
The work, paid for by Sainsbury's, will begin in January and last until May.
The supermarket said it would cut delays on the road, where many Christmas shoppers in 2010 were reportedly stuck for hours.
Sainsbury's said it had "delayed work until January to ensure visitors to the retail park do not experience issues during the festive period".
It added: "The works we are funding to widen Plas Coch Road will complement those of Wrexham County Borough Council to the Mold Road roundabout.
"The improvements will be complete in May and should significantly reduce delays experienced by all users of Plas Coch Road."
Two lanes
The new layout will see a "continuous two-lane approach to the Mold Road roundabout".
The road has been a well-known traffic hotspot for years, and Wrexham council approved improvement plans on June 2010.
A report to the council said at the time: "The scheme presents an opportunity to improve a traffic bottleneck and should have no significant detrimental impact on visual amenity or on highway and pedestrian safety."
However, the report said some people were concerned the new layout would not make it easier for through traffic using Plas Coch Road to access roundabouts.
Concerns were also raised on the effects on pedestrian safety.