Flintshire secondary school shake-up options agreed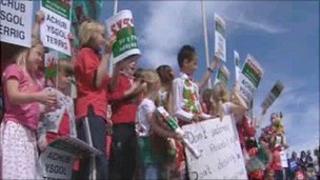 Flintshire councillors have agreed a revised set of options for the reorganisation of secondary schools in the county.
The full council voted on Wednesday evening to reopen public consultation on the shake-up in February.
Plans to close two secondary schools to reduce the numbers of surplus places prompted protests during the summer.
The first consultation was halted after some parents questioned its timing over the summer holidays.
Three schools - Holywell High, Elfed High in Buckley and John Summers in Queensferry - have been identified as having the most surplus places.
There are several different options on the table for each affected school.
Council chiefs admitted in August that public confidence in their plan was "mixed" when a previous meeting on the issue was lobbied by hundreds of parents, pupils and teachers.