Cable cars plan to boost tourism in Cefn Mawr, Wrexham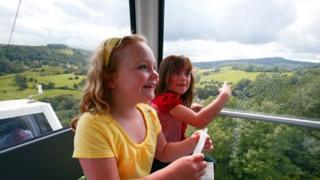 A £3m cable car system is part of a plan to boost tourism in a Wrexham village.
Proposals are due to be submitted to planners by the Plas Kynaston Canal Group, which wants to re-instate the filled-in canal to attract visitors.
It also wants to build a tourist information centre, footpath, and cable car system to transport visitors to the village of Cefn Mawr.
The group said the area needs tourism to replace lost industries.
The Plas Kynaston Canal Group (PKCG) said Cefn Mawr had suffered in recent years from hundreds of job losses.
About 200 people lost their jobs at Air Products, in nearby Acrefair, in 2009, and the workforce at the former Flexsys chemical factory in Cefn Mawr has been scaled down.
PKCG says the Plas Kynaston Canal once served industries, but was filled in in 2005.
It claims the canal could be re-instated, allowing Cefn Mawr to link up with inland waterways like the popular Pontcysyllte Aqueduct, which has Unesco World Heritage status and is estimated to attract about 200,000 visitors annually.
It wants a 60-berth marina in Cefn Mawr, and phase one of its plans would include a timber-framed tourist information centre.
A later phase includes plans for a cable car system to transport people from the information centre into Cefn Mawr.
David Taylor, chair of the PKCG, said: "Since we lost the Flexsys and Air Products site, it's taken away all the industry and jobs in the area.
"We have to think how we can bring an economy into the area.
"The best way to do it is to bring back the dormant canal which was filled in.
"The World Heritage people claim 200,000 people are currently visiting the aqueduct.
"With the canal and a marina, and putting in a cable car system, we can bring visitors directly from the car park - which would be the old Flexsys site - right into the village by cable car."
Mr Taylor said the PKCG is made up of local business people, is in talks with potential partners and has a "number of ideas" on how to finance the project.
Dave Metcalfe, campaign organiser, said the group intended to apply for planning permission in January, but wanted to hear from members of the public first.
Headed: "The cable cars won't happen until phase one is complete - the tourist information centre and the footpath.
"We know there's enough business in the area. Once we get the numbers of people, we can progress to the cable car."
He said the group was consulting with Wrexham council, and a Peak District tourist attraction called The Heights of Abraham, which runs cable cars.
Wrexham council said any plans would be considered once submitted.