North Wales Police end recruitment freeze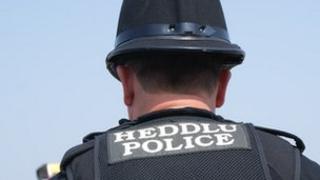 North Wales Police are to take on 72 probationary constables and 106 police community support officers (PCSOs) as a recruitment freeze ends.
A rise in the number of retirements, increased savings and the needs of the force have made it possible, says a report to police authority members.
The PCSO posts will be funded by the Welsh government.
The recruitment window for probationary constables opened on 21 November and will close next Monday, 5 December.
The North Wales Police Authority will discuss the update on recruitment at a meeting on Thursday.
Recruitment for the PCSOs has already taken place, with 429 applications.
The report author, Inspector Peter Nicholson, said initial plans were for 10 new constables in 2012, but this has risen to 72 for the financial year 2012 -2013.
Insp Nicholson said several serving PCSOs were expected to take up the opportunity to become constables and once this recruitment process ended it was likely to produce further PCSO vacancies.
Of the 429 applicants for the PCSO jobs, 116 went through the the interview stage of the recruiting process, with 48 of those women.
The first training course for the new PCSOs begins in January, with two further courses in March and May.