Death in Asia Restaurant in Denbigh unexplained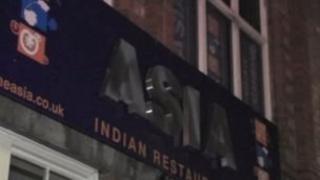 The death of a man in a restaurant is being treated by North Wales Police as unexplained.
Officers are appealing for information after the 47-year-old's body was discovered at the Asia restaurant in Denbigh.
Police said the body was found overnight on Thursday-Friday, 17-18 November.
A Home Office pathologist will carry out a post-mortem examination on Saturday.
Anyone with information can call 0845 607 1002 (English language), 0845 607 1001 (Welsh) or 101 if you live in Wales.