Micro-brewery plans approved for Henllan abattoir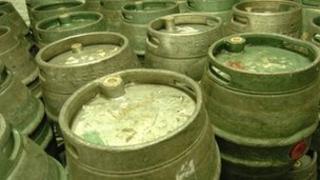 A former abattoir in Denbighshire is to be turned into a micro-brewery.
Councillors have approved the plans at the former factory at Henllan, near Denbigh, despite concerns raised by residents and community councillors.
They said they were worried about possible smells from a steam vent and foul water storage kept on-site as part of the brewing process.
It is expected to produce 1,650 litres - or 10 British barrels - of beer each week, which equates to one brew.
But that could be increased to 30 barrels and three brews a week within three years if successful, according to the plans.
The abattoir closed in 1985.