Sharp reviews Llay factory plan over solar subsidy cuts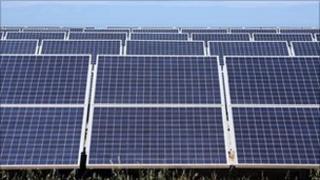 An official at electronics giant Sharp has denied suggestions it could close its Wrexham solar panel factory.
But Andrew Lee, European head of sales for Sharp Solar, confirmed the company is reviewing its position on further expansion at the Llay plant.
It follows the UK government's decision to cut subsidies for household solar electricity from next month.
Sharp has 400 staff and over 100 agency workers at Llay and recently opened a training facility for panel installers.
Earlier this year, it announced that a £30m expansion at the site would lead to 300 new jobs.
The UK government has said the changes would ensure its solar electricity scheme carried on in future.
Sharp has sent a briefing note to Prime Minister David Cameron expressing concerns, and executives are due to meet officials from the Department of Energy and Climate change next week.
Mr Lee denied newspaper reports that jobs had recently gone because of the planned subsidy cuts, although he said there had been a fall in the number of agency workers employed on-site due to market fluctuations.
Last year, Sharp announced a major expansion at Llay and in January they said that would lead to 300 new jobs.
But Mr Lee said the need for further expansion was now being reviewed in the light of the government's decision to cut the level of subsidies for solar panels from December 12 under the feed-in tariff paid to householders who generate electricity.
Criticising the decision to reduce the payments before UK government consultation has ended, Mr Lee said: "They give the banks years to change their ways of working. But they've given our industry just six weeks.
Possible legal challenges
"We are genuinely concerned by the government's comprehensive review of the feed-in tariff.
"We are also particularly critical of the 12 December deadline set for the change in the tariff as this will have negative connotations for business and individuals with plans already in place."
The new tariff of 21p, down from the current 43p, will take effect from 1 April and will be paid to anyone who installs a solar system after 12 December.
The UK government's decision has already been criticised by the employers' organisation the CBI, and the Local Government Association, which warned it would cost councils who had attempted to roll out the technology to poorer households hundreds of millions of pounds.
The Department of Energy and Climate Change is facing two possible legal challenges over the plans from Friends of the Earth and lawyers acting for installers.
In a statement issued last week, a DECC spokeswoman said: "If we left things as they are, the feed-in tariff budget would be eaten up entirely, full stop, and that would be even worse for employees in this sector and those working on other technologies too.
"We believe solar photovoltaic can have a strong and vibrant future in UK and we are proposing changes to ensure a lasting feed-in tariffs scheme to support that future."
A Welsh government spokesperson confirmed officials have been in close dialogue with Sharp regarding the proposed changes to feed-in-tariffs and any potential impact on the manufacturing plant in Wrexham.
Plaid North Wales AM Llyr Huws Gruffydd said: "I urge the London government to re-think its decision to ensure that the Sharp factory has a bright future but also to ensure that we continue to develop the renewable energy industry and reduce our carbon footprint here in Wales."