Wrexham traders call for Charles Street dispersal order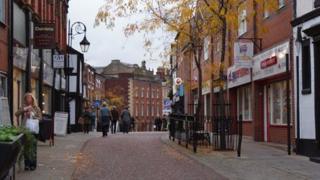 Traders in one of Wrexham's most famous town centre streets claim their customers have been harassed by beggars, drunks and drug addicts.
Some have called for Charles Street to be included in a dispersal order which was introduced to nearby streets, giving police powers to exclude people.
County councillor Keith Gregory said people were "scared" to go there, and traders risked losing business.
North Wales Police said it was working with traders.
A dispersal order was recently introduced nearby, based on a zone surrounding St Giles' Church.
It will be in force until April, and gives police powers to exclude people for anti-social behaviour for 48 hours, otherwise they face arrest.
However, it does not include Charles Street.
Wrexham councillor Keith Gregory said: "It definitely should have been included in the dispersal order.
"There are groups of alcoholics hanging round Charles Street and they wait for vulnerable people.
"They start talking to them, but what they're really after is peoples' purses. People tell us they're too scared to go there."
Although Mr Gregory wants Charles Street in the dispersal order, he said "pushing people out of one area into another isn't the answer," and called for police to issue anti-social behaviour orders (ASBOs).
He added: "Charles Street is the best-looking street in the whole of Wrexham.
"It's Victorian, very pretty, and there are independent traders there. The danger is that you lose those businesses."
Lorraine Roberts, of Flower Power florists, said the problems had centred around "generally people begging and asking for money from customers, and quite drunken behaviour".
Michelle Bougatsas, who owns Nia boutique, said there had been a greater police presence in recent weeks, following complaints, and the situation had "greatly improved".
However, she still called for the street to be included in the dispersal zone, adding: "Obviously it was the police presence that alleviated the problem, so I do think it's vital it's included."
John Barrow, who runs the Just Up Your Street dress agency in Charles Street, agreed that a recent police presence had improved the situation, but said: "I would like to be in the dispersal zone. We wondered why we were left out."
Urinating
He added: "We get a lot of beggars coming up and down the street and they are pestering vulnerable people.
"Because we are next to a taxi rank, a lot of old women use it. These people go up to them and put their arms around them and bother them.
"We get a lot of young drunks drinking beer up and down the street."
Mr Barrow said he has had people urinating and being sick in his doorway, and regularly has to clean up.
Wrexham's chief inspector, Alex Goss, said: "Since the dispersal order has been in force we have been working with traders in Charles Street and surrounding areas to target some of the problems such as begging and other anti-social matters."