Rhyl Foryd harbour revamp plan rises £700,000 to £9.9m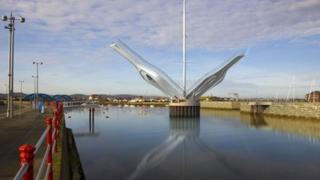 The estimated cost of a proposed redevelopment of Rhyl's Foryd Harbour has risen by £700,000 to £9.9m, with building work yet to start.
When Denbighshire council approved the progression of plans in February, the £9.2m project was described as the authority's most expensive ever.
A confidential report to be discussed next week reveals increased costs, and the council is being asked to earmark an extra £500,000 itself.
The target completion date is 2013.
The development would include a new pedestrian bridge over the River Clwyd, extending the sea wall to provide up to 100 moorings, and the creation of a public square with shops, cafes and other buildings.
The plans are due to go on public display this weekend.
All but £150,000 of the £9.2m was pledged by the Welsh government and European Regional Development Fund.
As a sign of its commitment, the council is now being asked to contribute an extra £500,000.
Officials are recommending that councillors approve the proposal and earmark another £500,000 for a contingency fund for any future increase in costs.
That would take borrowing on the project to £1m.