Dobson & Crowther's supermarket plan divides Llangollen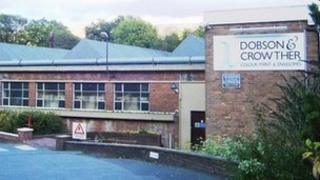 A town has become divided by a factory's plans to finance a move by turning its current site into a supermarket.
Printers Dobson & Crowther say the move to purpose-built facilities half a mile away in Llangollen would safeguard 110 jobs in the town.
Opponents argue the supermarket plans could affect high street trade while supporters say it would secure jobs and create new ones.
The proposals are show from Wednesday.
Bosses at the firm, which was taken over in a management buy-out in 2006, say the existing building, used for 65 years, is no longer fit for purpose.
"The move represents a significant investment in Dobson and Crowther, which will help safeguard the jobs," said Paul Holden managing director at the factory.
It is said to be one of the largest producers of litho printed envelopes in the UK.
The proposed relocation just outside the town would be funded by the construction of a planned 20,000 sq ft supermarket on their existing site.
The move further along the A5 would create an estimated 130 new jobs.
It would also provide around 221 car parking spaces with a pedestrian link to the town centre via a riverside walkway.
'Siphoned away'
But opponents call the plan an out of town development.
They fear shoppers will be diverted away from the town centre, which is known for its character and number of independent traders.
The plans are on show at Llangollen Town Hall on Wednesday and Thursday prior to being formally submitted to Denbighshire County Council.
Rival campaign groups have set up pages on Facebook.
Opponents 'Llangollen Preservation' say: "We do not agree a large supermarket in Llangollen is to the benefit of its residents, to independent retailers or to the smaller supermarkets we already have in the town.
"Stopping supermarket development will safeguard local jobs, stop money being siphoned away from Llangollen and enhance diversity and sustainability."
However, the company says its research shows the supermarket would reduce the amount of "convenience retail expenditure" being spent outside Llangollen with shoppers going to supermarkets such as in Wrexham to do weekly food shops.
Meanwhile, a support group, 'Say Yes to New Supermarket in Llangollen' argues the town needs to ensure the printers can develop and stay in the town, as well as the jobs a supermarket will bring.
One supporter is youth development worker John Evans, 37, from Llangollen, who says the town is losing its young people to work outside the area.
"It's not an 'us against them campaign'. We need to work together for the benefit of the town," he said.
Oswestry-based developer J-Ross Developments Ltd would own the new supermarket site where work would start after Dobson and Crowther moved to new facilities by the A5 at nearby Cilmedw.