Helicopter to catch off-roaders on Llantysilio Mountain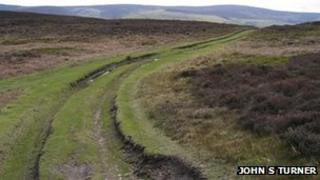 A police helicopter is being used to curb the rising number of 4x4 motorists and bikers driving off-road on the hills around north-east Wales.
North Wales Police are mounting Operation Kick Start with enforcement days around Llantysilio, Ruabon and the Berwyn mountains.
Some of the land is protected as sites of special scientific interest (SSSI) with an Iron Age hillfort.
A number of people are already facing prosecution, say police.
Riders and drivers caught off-roading illegally could have their vehicles confiscated and face fines.
The clampdown comes after previous attempts to encourage drivers and riders to obey the laws and not use the land illegally.
Llangollen area beat manager PC James Lang said: "We have recently seen an increase in the number of off-road vehicles, including bikes that are coming into the area.
"Some have said that they have been told it is OK to ride or drive off-road in the area which is clearly not the case.
Destroy vehicles
"The land is all protected landscape. It is also important to the local history."
The Moel y Gaer hillfort on Llantysilio Mountain is thought to be almost 3,000 years old.
North Wales Police are working with Denbighshire Countryside Services and the North West Air Operations Group.
They said people found riding or driving vehicles on protected land will be prosecuted under the Countryside Act.
Section 59 of the Police Reform Act also gives police the power to seize and destroy vehicles which, they say, has been done in the past.
PC Lang said: "I urge off-roaders to help keep protected land secure and avoid any possible prosecution by ensuring they are permitted to ride on land before setting out for the day."
Police want people who see illegal driving or riding taking place to call them on 101 or 0845 607 1002.