Estate plan for A494 Queensferry road widening site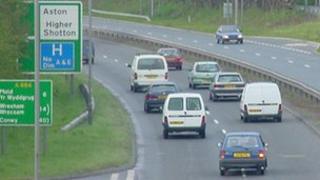 Plans to build a housing estate on the site of a failed road widening project in Flintshire have been given the go ahead by councillors.
The widening of the A494 road at Queensferry to a seven-lane 'super-highway' was rejected by 2007 inquiry.
But tenants living nearby were rehoused in anticipation of the road development and 50 houses were flattened.
Now, a housing group working with Flintshire council and the Welsh government want to redevelop the site.
The plans at Aston Mead are for 21 two, three and four bed eco-friendly properties.
A report from Flintshire council planners says the development would not affect any future plans to look again at a road widening project.
The road improvement scheme for the A494/A550 Drome Corner to Ewloe had long proved controversial with residents.
'Suitable'
A public campaign to halt the plans stepped up a gear following a public meeting in August 2006 - a year before work was originally expected to start.
A public inquiry was held in 2007 before a planning inspector rejected the proposal with the Welsh Assembly Government announcing the project had been abandoned in March 2008.
Some 2,700 objections were received and the inquiry cost nearly £87,000.
Since then, the land alongside the dual carriageway at Aston Hill has stood empty.
The housing plans by the Pennaf Housing Group, based in St Asaph, Denbighshire, received the go ahead at a planning committee meeting at Flintshire council on Wednesday.
So close
Before the meeting, housing group chief executive Graham Worthington said: "We are awaiting the outcome, not only of the planning decision, but also of on-going discussions with the other project partners before any start date can be scheduled for work on the site."
The proposals are for affordable housing with an emphasis on time buyers.
The planning report says the properties could have solar panels, and use recycled rainwater and under-floor heating with the chimney on the properties acting as a "sun pipe" to channel sunlight into the homes.
Local resident John Butler, an opponent to the road widening project, said there had been some support locally for more social housing.
But he questioned whether homes should be built so close to a main road.
"I don't think it is suitable for housing next to a busy expressway," he said.