John Gizzi's 11-year jail sentence is cut on appeal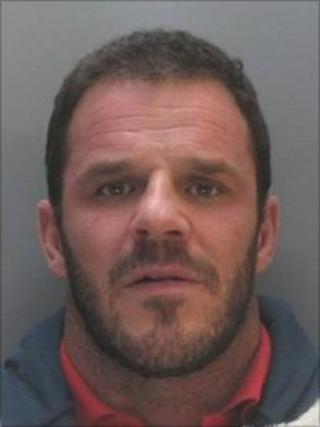 A man dubbed a gang organiser has had his 11-year sentence over a plot to sell cocaine to users in north Wales cut by one year.
John Gizzi, 40, from St George, Conwy, was jailed in March after admitting conspiracy to supply the Class A drug.
He was said to be the "principle organiser" in a plan to transport drugs from Liverpool to north Wales.
The appeal court in London decided his sentence was too long and cut it to 10 years.
Lord Justice Moore-Bick said the sentencing judge at Caernarfon Crown Court had not given Gizzi enough credit for pleading guilty and other mitigation, including family bereavements and good behaviour in prison.
Gizzi's conviction in March had been the culmination of a 12-month police investigation to gather intelligence, surveillance and forensic evidence.
Police believed he was a threat to Rhyl and communities across the region.
Gizzi was released from prison in March 2009 after serving just over three years of a five-and-a-half year sentence for beating up two homeless men with wooden staves.
At the appeal court on Monday another man, Gregory Gorst, 31, from Towyn, Conwy, also had his sentence for the same drugs plot cut from five years and three months to four-and-a-half years.
But three other conspirators, sentenced to between four-and-a-half years and six years and eight months, saw their appeals rejected by the judge, sitting with Mr Justice Irwin and Mrs Justice Thirlwall.
Sentences challenged
Lord Justice Moore-Bick said the plot had run from August 2009 until April 2010 and involved criminals in Liverpool supplying to the north Wales gang to sell on.
During the police operation, two transfers of cash, totalling £70,500, and one block of compacted cocaine were intercepted, the judge said.
Lawyers for Gizzi told the appeal court that he should have received a greater reduction in his sentence for pleading guilty and for other personal matters.
And those representing Gorst, who was said to be a "foot soldier" at a much lower level, argued that he had been too harshly punished for his relatively minor role.
The judges rejected three other challenges.
Christian Martin Suckley, 28, of Kinmel Bay, Denbighshire, who was said to be a "senior member of the organisation", had been jailed for six years and eight months.
John Etheridge, 31, of Llys Arthur, Towyn, was jailed for six years for his role as "foot soldier", having driven others to Liverpool on one occasion.
Michael Peter Bennett, 34, of Pen Lan, Towyn, who was jailed for four-and-a-half years, was said to be involved at the "lowest end" of the conspiracy, allowing his premises to be used for preparing drugs for onward supply.