'Wrong' Conwy church clock time blamed on EU directives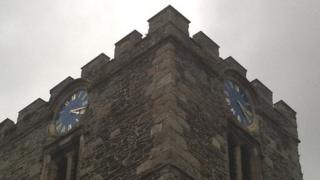 A north Wales church clock has spent nearly a week telling the wrong time because its computer is not up to date with European Union rulings.
St Mary and All Saints Church clock in Conwy automatically re-set itself to GMT last weekend, seven days too early, and has been an hour slow since.
The problem arises this year because there are five Sundays in October.
"The same thing can sometimes happen in spring when clocks go forward from GMT to BST," said the clock's maintainers.
Owner Conwy Town Council will decide on paying for it to be upgraded.
"If people are not happy, we can consider whether to get it changed," said the town clerk.
The Victorian clock was converted to run on electricity in the 1990s, and is programmed to re-set itself from British Summer Time (BST) to Greenwich Mean Time (GMT) on the fourth Sunday of October.
It is maintained by clockmakers JB Joyce & Co in Whitchurch, Shropshire. A spokeswoman for the firm explained that since then, the date for the change has altered subtly.
She said: "In 1997 and 2001 there were European Directives which set the date for the change as the last Sunday in October, rather than the fourth Sunday in October.
"Normally, it doesn't make any difference, but in some years there are five Sundays in the month, which means the clocks change to GMT a week early.
"The same thing can sometimes happen in spring when clocks go forward from GMT to BST."
'Cost'
She added that Conwy is not alone in suffering the problem.
"We have had five complaints from around the UK this year," she said.
"We can upgrade the system, but there is a cost involved. If people have a problem with it, we're happy to send them a quotation to put it right."
The clock was given to the town by Lord Penrhyn in the 19th century, and is owned by Conwy Town Council, which recently spent £10,000 refurbishing the four faces on the church tower.
Town Clerk Helen Armitage said: "We've not actually had any complaints, so perhaps nobody has noticed, or people are too busy enjoying half term.
"With lots of calls on our money, it will be up to councillors to decide what to do next."
The UK's clocks - except at St Mary's in Conwy - will go back by one hour to 01:00 GMT at 02:00 BST on Sunday 30 October.