X Factor's Sami Brookes to keep singing despite exit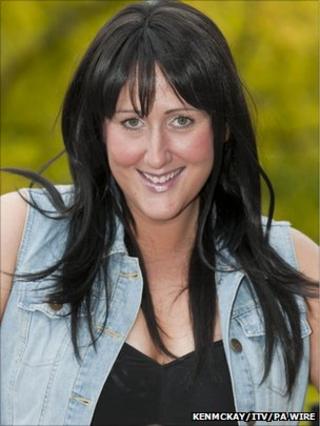 X Factor contestant Sami Brookes says she'll keep on singing for the rest of her life - despite being voted off.
The 31-year-old from Rhyl was voted out by the judges after the public put her and Kitty Brucknell in the bottom two on Sunday.
Ms Brookes said the experience had been "amazing" and she thanked the producers and audience for the opportunity.
Janet Devlin and boy band The Risk have been named by bookmakers William Hill as joint favourites to win the contest.
Ms Brookes, who works in a card shop, was criticised for a "karaoke" style rendition of Cher's If I Could Turn Back Time which judge Gary Barlow dismissed as "boring".
A performance of the Aretha Franklin hit (You Make Me Feel Like) A Natural Woman failed to save her, with Tulisa Contostavlos the only one of the four judges voting to send Kitty Brucknell home instead.
She said: "I've got to vote with my heart and the person I love to listen to the most, and the person I most connect with on stage - so the act I'm sending home tonight is Kitty."
Judges' praise
Despite voting against the Rhyl singer, Barlow said her voice was "undeniable", while Kelly Rowland told her "Sami, I absolutely adore you".
The only Welsh finalist was also rejected by her mentor Louis Walsh who said: "I'm not going to cop out and let it go to deadlock, I'm going to go with my heart, and the person I have to send home tonight is Sami."
Following the verdict, Ms Brookes said the experience had been "amazing", telling the audience: "I may not be able to sell one million albums as Gary said, but I'm going to sing for the rest of my life and thank you so much, thank you for the opportunity."
Last week she told BBC Wales how the X Factor experience wasn't as glamorous as it appeared on TV.
She said it was hard work, describing the 05:00 BST early morning starts as a "killer".
But she added that fame wasn't her main motivation.
"I don't want to be in this business to be a celebrity - I want to sing and get into musicals."