Welsh language protesters hold S4C rally in Wrexham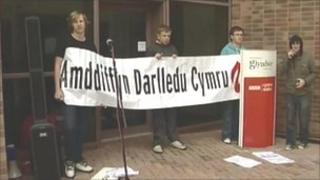 About 40 Welsh language campaigners have protested outside BBC studios in Wrexham calling for S4C to remain independent.
The protesters are opposed to plans to partly fund the Welsh-language channel from the BBC licence fee and want broadcasting devolved in Wales.
They say linking S4C and the BBC, which last week announced plans for 2,000 redundancies, is not the way forward.
The BBC said the future of the channel "is not and will not be at risk".
Posters were stuck to the front door of the BBC Wrexham office.
Bethan Williams, chair of the Welsh Language Society, said although there was a "strong consensus here against the plans, it's not succeeding in changing the decisions in Westminster at the moment".
"The BBC bosses claim they're saving S4C, a corporation that's facing cuts itself and just announced they're cutting 2,000 jobs," she added, referring to the news that the corporation is to make 20% cuts, aimed at saving £670m a year by 2016/17.
'Weapon'
North Wales Liberal Democrat AM Aled Roberts and Wrexham Labour MP Ian Lucas joined the protest.
Mr Roberts, the former Wrexham council leader, said: "There's a fair amount of agreement amongst political parties in Wales about keeping S4C independent, and Westminster politicians should take note of this point of view.
"The channel is a weapon in the struggle to establish Wales as a bilingual country, and the present plans are a threat to our plans to bring more of our children up as Welsh speakers because they threaten the continuation of the channel."
Mr Lucas said: "S4C is an essential part of life in Wales, it must be preserved and developed."
Other politicians, including Plaid Cymru members, were at the rally on the Glyndwr University campus in Wrexham.
Last month Welsh language campaigners climbed onto a roof at S4C's headquarters in Cardiff protesting at the UK government's decision to hand over part of the responsibility for funding the Welsh-language channel to the BBC.
New partnership
A BBC Trust spokesperson said last year the UK government concluded that it could no longer fund S4C at its 2010 levels.
And, as part of the licence fee settlement, it proposed a new partnership with the BBC to fund the service.
"The agreement laid in Parliament last month formalises this agreement which has been in the public domain since last October and has been debated extensively," the spokesperson said.
"The future of S4C is not and will not be at risk in this new partnership.
"The BBC has made it clear that it fully understands the importance of the channel for the people of Wales and that it wants S4C to be an even more successful and much loved part of Welsh life.‬‪"