Wrexham voluntary group review after 'sham' ruling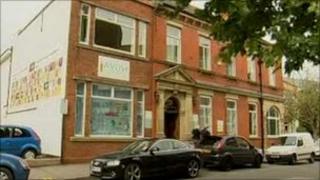 An organisation helping voluntary groups has launched a review after criticism at an industrial tribunal.
The Association of Voluntary Organisations in Wrexham (Avow) made the announcement after saying it will not appeal a decision made against it.
The tribunal had said that its "grievance processes were a sham".
Its insurers have paid an undisclosed sum to former staff member Genny Bove, whose claim for unfair and constructive dismissal was upheld by the tribunal.
The case followed her attempts to get changes to the lights in the Avow office where she worked because she said they triggered her problems with migraines.
The tribunal also upheld Ms Bove's claim of disability discrimination and direct discrimination and victimisation.
After the ruling was made public in early September, Avow said it was unable to comment at that time as it was considering an appeal.
Avow chair Mervyn Rosenberg said the matter took place more than two years ago and "many changes have taken place within and around Avow in the intervening time".
He said: "We were unable to respond to any public comment on the tribunal findings for fear of negating the insurance whilst an appeal was being considered but that problem is now removed.
'Constructive response'
"As a result of our silence I am pleased to tell you that zero charitable funds have gone towards the award."
He said the organisation received backing from the Charity Commission since starting a review of the tribunal findings with an independent chair and two Avow trustees who were not involved with the group when matters regarding Ms Bove took place.
He said the commission's support was proof "we were not simply twiddling our thumbs during our silence and that a lot was going on under the surface".
A letter from the commission to Avow trustees said: "The decision to commission a review into the circumstances relating to the case and the findings of the tribunal in order to make recommendations for action is an essential and constructive response by the trustee body."
It goes on to say Avow's actions "should enable them to address the criticisms in the judgement and strengthen the governance of Avow".
Avow, based in Egerton Street, Wrexham, is one of 19 organisations across Wales which provide support to voluntary and community groups, and it also administers grants schemes.