Neolithic finds 'best yet' at Borras Quarry, Wrexham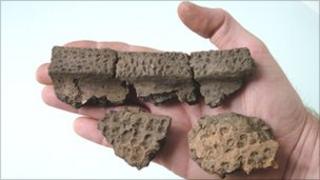 Fragments of Neolithic pottery and an ancient arrowhead represent the best finds yet from a dig at a quarry near Wrexham, say archaeologists.
Clwyd-Powys Archaeological Trust (CPAT) has been excavating at Tarmac's Borras Quarry site since 2008.
The trust said about 500 pottery pieces and flint artefacts dating back to about 3,500 BC had been uncovered during this summer's dig at four sites.
Ian Grant, CPAT's site director, hailed "the best season we have had".
The discovery of the remains of a 4,000-year-old Neolithic settlement was announced three years ago.
Evidence of the settlement was found as topsoil and subsoil was being removed in preparation for gravel extraction at the Holt Estate section of the quarry.
This summer's dig also uncovered evidence of probable Iron Age metal working, said CPAT.
"We have found not one but four sites across the Holt Estate," explained Mr Grant, "and we have found far more pottery fragments than before, some of which is beautifully decorated."