Archaeologists dig at Pillar of Eliseg near Llangollen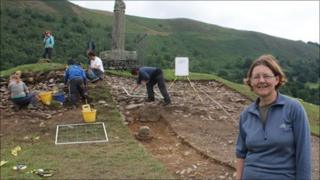 Archaeologists are launching a new dig to try to unearth the secrets of a 9th Century stone monument on a prehistoric mound.
Bangor and Chester university experts will begin excavations at the Pillar of Eliseg near Llangollen, Denbighshire.
It is part of work by historical monuments agency Cadw to conserve the mound and better explain it to people.
Last year excavations focussed on the mound, which was identified as an early Bronze Age cairn.
It followed on from one in the 18th Century.
Professor Nancy Edwards from Bangor University told BBC Radio Wales: "We are looking at the relationship between the pillar and the early Bronze Age cairn on which it stands.
"Last year we did an exploratory excavation just to uncover areas and see what might remain underneath.
"This year we are going back to the cairn to one particular trench because we discovered evidence last year of the dig into the top of the cairn in 1773.
Tall stone cross
"This was at the point where the pillar had fallen and the local landowner Trevor Lloyd decided he was to resurrect it.
"He did this dig and claimed afterwards to have found a stone cist with a body in and pieces of silver and things.
"Now I think this is probably all legend rather than real."
There will be an open afternoon at the archaeological site on 16 September.
The Pillar of Eliseg was originally a tall stone cross but only part of a round shaft survives set within its original base.
It once bore a long Latin inscription saying that the cross was raised by Concenn, ruler of the kingdom of Powys, who died in AD 854, in memory of his great-grandfather, Eliseg, who had driven Anglo-Saxon invaders out of the area.