Inquiry call on monk's Llangollen hotel centre plan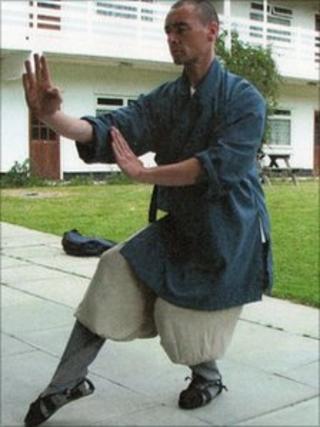 Two Assembly Members want a public inquiry into the Welsh Government's handling of plans by a Shaolin monk to open a cultural centre in an old hotel.
Pol Wong represents a group called Powys Fadog, which wants to transform the disused River Lodge in Llangollen into a venue for martial arts training.
The Welsh Government has ended the lease on the building, and said the group failed to show it had funding.
Mr Wong said he had worked on the plans with the Welsh Government since 2005.
He said it would provide 30 jobs, childcare facilities and training for employment and business.
He said there would also be courses in the Welsh language, martial arts and environmental awareness.
"In December 2009 we had negotiated a package with the responsible [government] officers and had appointed contractors to start work.
"However the project was stopped for some reason.
"The reason we have been given now, after two years, is that we don't fit with [Welsh Government] policy.
"Our whole business plan revolves around tourism."
He said the group had invested £90,000 in the project and had secured £250,000 investment in the site from their project partners with a commitment of a further £25,000 if the project went ahead.
But a spokesperson for the Welsh Government said when Powys Fadog agreed a lease in 2009 it had two years to demonstrate it had secured sufficient funding to undertake a detailed programme of repair and improvement works to the property and to pay rent.
"As they were unable to meet this requirement the Welsh Government has notified Powys Fadog of the termination of the agreement for lease," said a spokesperson.
Plaid Cymru AM Llyr Huws Gruffydd and Conservative AM Mark Isherwood have written to First Minister Carwyn Jones asking for a public inquiry into the way the project was handled.
'International links'
Mr Huws Gruffydd said: "The business plan, which has been in the government's possession since 2005 and has already gone through many rounds of approval, describes how the project will provide guided heritage tours, residential courses and cultural events and activities.
"Further, the project will bring much-needed out-of-season tourism to Llangollen and will enhance the area's many international links.
"The building has been empty since the government bought it and has suffered many break-ins and deterioration.
"It's unbelievable that public money is being wasted like this in such difficult times.
"There are many questions that need answering about the way officials have handled this and that's why I have asked the first minister for a public inquiry into the matter."