Llangollen Railway passengers arrive in Corwen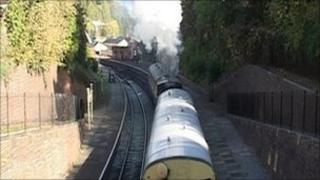 Rail passengers have started to arrive in a Denbighshire town even though it does not yet have a line or station.
Llangollen Railway is extending its line to Corwen and this weekend is ferrying passengers by bus to a temporary platform in the town.
Currently, the railway stretches seven miles (11.2km) from Llangollen to Carrog.
Passengers can take a bus to see how work is progressing along the two-mile (3.2km) track bed extension.
The last time rail passengers arrived in the town was 45 years ago.
Annually, 100,000 passengers travel on Llangollen Railway which forms part of the old Ruabon, near Wrexham, to Barmouth Line.
And businesses in Corwen are hopeful the travellers will return to spend their money in the town when the line reopens in late summer next year.
Whilst not currently known as a big tourist destination like Llangollen, Corwen and District Business Association is hopeful new enterprises will be encouraged to set up in the town.
"When the train does arrive it will be a great asset," said Corwen hairdresser Tish Aldridge, chair of the business association.
However, she said there was some "apprehension" among businesses that people could park their cars in Corwen and use the train to go to Llangollen.
"We have got to make sure they stay," she said.
One business preparing for the arrival of the first trains is Corwen sub-post office where owner Mark Deacon has received a £20,000 Welsh Government grant to diversify as a cafe.
Mr Deacon said he hoped his plans for a coffee shop with internet access would prove popular with visitors.
A Llangollen Railway spokesman said while bringing travellers into Corwen by train from Llangollen, it was also hoped visitors would be attracted to Corwen from the wider area to start their railway journey from the town.
"The need will be to boost the Llangollen Railway's passenger numbers to justify the expense of this project - 20% initially, and more ultimately," he said.
Llangollen Railway website says the construction of the line from Carrog to Corwen, including the new station, has been costed at £4.6m, and although some "invaluable" grant funding has been obtained from the Welsh Government, the railway is expected to contribute £1m from its own resources.