Castle Hotel in Ruthin set for £2m Wetherspoon revamp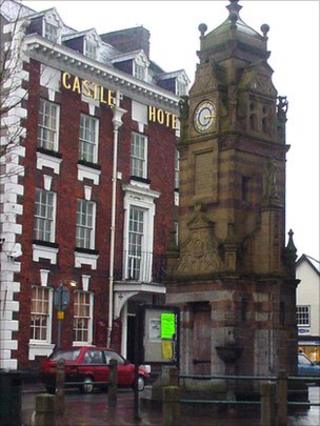 Work is due to start on the £2m renovation of a Denbighshire town's historic hotel.
Ruthin's Grade II-listed Castle Hotel, which closed earlier this year in St Peter's Square, has been bought by the JD Wetherspoon pub chain.
Construction workers have moved in, with work due to take several months before a planned opening in January.
The pub will include a 17-bedroom hotel. Officials say about 45 jobs will be created.
Wetherspoon chief executive John Hutson said he believes it would be an asset to Ruthin.
"We are pleased to have completed the purchase of the Castle Hotel and are looking forward to redeveloping the site and opening a new-look pub and hotel," he said.
The pub, which closed in March, was previously owned by north east Wales hotelier Stephanie Booth.
Local historians say Castle Hotel is regarded as one of Ruthin's finest buildings.
It was formerly known as the White Lion, and was a coaching inn between Chester and Holyhead.