New moves to redevelop Buckley town centre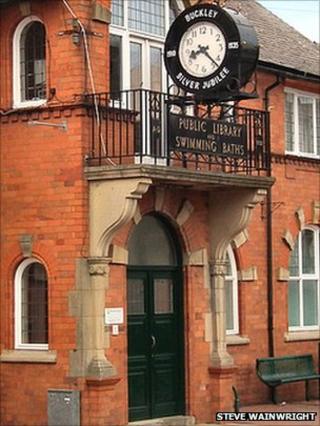 The next stage in a plan to redevelop the centre of a Flintshire town has been drawn up.
Residents and traders are being asked to give their backing to the document which maps out Buckley's development brief for new shops in the town centre.
It has been devised by planners to help developers obtain planning permission to build facilities like a supermarket.
Potential developers have been showing "genuine interest" in the plans already, say officials.
They now want the public to have their say on the Draft Buckley Development Brief before it is rubber-stamped in late September.
This comes on top of Buckley Masterplan which was approved earlier this year which forms a wider vision for the future development of the town.
The "core vision" is the expansion of the town's retail area by extending Buckley's shopping precinct with a range of new shops and cafés anchored by a new supermarket.
Les Bowers, who runs a TV repair shop in Buckley, said while the town needed new ways to bring people into the area during the day, he was concerned a new supermarket may divert shoppers away from independent traders.
New civic square
But councillor Matt Wright, Flintshire executive member for regeneration and tourism, told the Leader newspaper that the plans would "complement the existing town centre whilst improving the shopping facilities".
A Flintshire council spokesperson explained that both planning documents will now be used to help assess a "future planning application seeking planning permission to develop a new quality foodstore within Buckley".
The brief also contains references to some key requirements which a developer will need to consider, including the relocation of the town's war memorial and cenotaph to a new civic square and the relocation of the library.
The council has appointed a land agent to enter into negotiations with land owners in the area to help realise the plans.
It hopes to form a partnership of land owners who can join forces to offer a single site for purchase by a developer, adding that several have already indicated an interest.