£10,000 lead theft at St Asaph cathedral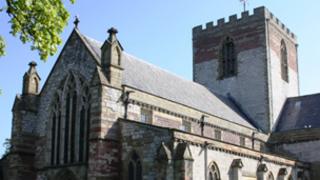 Church officials say they are shocked that St Asaph Cathedral has been targeted by metal thieves for the second time in three years.
About £10,000 worth of lead was stolen from the roof on Thursday night.
There have also been similar thefts at churches in Mold and Bistre, Flintshire, over the past 10 days.
Canon Michael Balkwill said it was "another sad example" of how some were prepared to put personal gain above respect for others and their property.
He said: "The cathedral community in St Asaph is shocked to have been targeted by lead thieves yet again, along with other churches in north Wales."
In a reference to the riots in English cities, Canon Balkwill added: "This incident, however, helps us to focus our prayers even more on the victims of crime, including those whose homes, possessions and livelihoods have been destroyed by the selfish and mindless actions of others in recent days."
North Wales Police have appealed for information about the theft from the 800-year-old cathedral.
Churches are also being encouraged to use Smartwater - an invisible liquid that leaves a traceable DNA on metal to help stolen goods make it back to their owners.
North Wales Police want anyone with information about the lead thefts to get in touch on 101 or anonymously via the independent charity Crimestoppers on 0800 555 111.