Rhyl's Fit For Work Service helps 153 back to work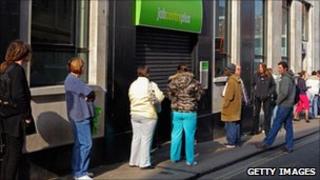 A pilot project to help people in deprived areas back to work after sickness claims to have helped around half who joined to keep their job.
The Fit For Work Service was launched in Rhyl, Denbighshire, in May 2010, and has helped 153 people back to work with 125 (82%) remaining in those jobs.
It is the only such project in Wales, although 10 others were also launched in England and Scotland.
The north Wales scheme has now expanded and had funding extended for two years.
The project sees people assessed and offered treatments or physiotherapy, as well as advice.
It was initially a year-long pilot, and manager Bridgette Handley said more than 500 people had been referred to the service by GPs and local employers, all seeking help to return to work while in the early stages of sickness absence.
It aims to get them back to work as soon as possible and keep them in work, "so reducing the risk of job loss and the need to claim benefits".
She added: "Of the 500-plus referrals, we have registered 318 on to the service.
Psychological counselling
"Some referrals have been ineligible, either due to the nature of their illness being more chronic/long term or the individual being unemployed."
Of the 318 people registered, 153 have completed the service and 125 have remained in work.
Funded by the Department for Work and Pensions, (DWP), the pilot was originally intended to help people living or working in Rhyl, Abergele and Colwyn Bay, and it has now extended to Prestatyn, St Asaph and Kinmel Bay.
The service works by appointing a case manager to assess clients, and, if appropriate, the client can be referred for treatments including physiotherapy and psychological counselling.
The service can also help provide information on issues such as debt, housing, drug, alcohol or relationship advice.
Ms Handley said: "Ours has been a very successful pilot, and DWP has extended our funding by a further two years.
"We were one of only seven of the original 11 pilots that have received further funding from DWP."
The UK minister for welfare reform, Lord Freud, said too many people, through no fault of their own, have fallen out of work due to sickness absence.
"The Fit for Work Service has played a vital role in helping people stay in work or return more quickly than they otherwise would have done."
He said as well as benefiting workers, employers and the taxpayer, it helped reduce pressure on GPs and other health services.