Wrexham FC sale 'given approval 'by Football Conference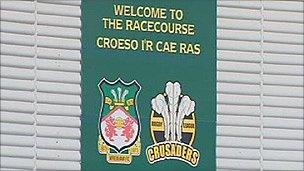 Wrexham Football Club says it has received verbal confirmation that they can proceed with the club's sale.
It came after a day when one fan even offered his home's deeds to help Wrexham FC raise money for a bond so they can play this season's fixtures.
The club has to pay the Football Conference £250,000 as part of its demands, but were £100,000 short when Monday's 17:00 BST deadline passed.
About £90,000 was raised on Tuesday as fans showed "overwhelming" support.
"Conference man - he say YES," a statement said on Tuesday afternoon.
"Verbal confirmation from the Conference that we're okay to proceed... after an amazing day at the Racecourse, during which fans have just been tremendous.
"We have raised the amount required to satisfy the requirements of the bond."
"(It) just showed again what the football club means to so many people.. still a few minor issues to clear up, but nothing which will cause us to miss starting the season on Saturday," the statement added.
The Dragons are due to start their Blue Square Bet Premier 2011/12 campaign at home to Cambridge United on Saturday.
Football Conference chief executive Dennis Studwick is hopeful Wrexham can complete its fixtures.
Monday's deadline for the club to meet a number of demands was extended as "further clarification" was wanted, including the bond.
Mr Studwick said the club responded to all of the Football Conference's requests, but is not putting a timescale on when the last details have to be submitted by.
"Hopefully it will be sorted today, I am trying to remain positive," he said earlier on Tuesday.
The Football Conference must be satisfied the conditions are met, which include:
Deposit a bond or bank guarantee of £250,000 into the competitions accounts
Proof of payment to all outstanding football creditors, including staff and players wages
Lodge a signed lease, acceptable to the Football Conference, as to where the club intends to play its home fixtures for season 2011/12
Submit a detailed business plan and revised budget for the coming season
Reports on Twitter also suggest one supporter has used his wedding money to help the club's cause.
Wrexham's owners completed the sale of the Racecourse and Colliers Park training facilities to Glyndwr University on Friday, claiming that deal had immediately settled three of the criteria and it was confident the remaining demand would also be met in time.
Wrexham Supporters Trust wants to buy the club, which is up for sale, and has been boosted by former Wales midfielder Robbie Savage who on Monday said he was joining the trust.
On his Twitter account, he said: "Hoping for good news on Wrexham FC tonight. I'm joining the trust, every little helps surely must be more people out there to contribute!!!"
On Saturday, a group of Wrexham supporters attempted to raise funds with a 24-mile (39km) sponsored walk from the town to Northwich Victoria, where the club played a pre-season friendly.
A gig, organised by Welsh language campaign group Cymdeithas yr Iaith Gymraeg, was also being held on Saturday, with some of the profits being donated to WST.
Last month, 115 staff at the club, including players, were not paid and two pre-season friendlies were called off after owner Geoff Moss said he had no more money to inject.
Rugby league side the Crusaders will still be able to play at the Racecourse. Their final home game against Hull has been moved to 21 August.
The struggling Super League side, also owned by Mr Moss, has not renewed its licence to play in the competition for the next three years.
Related Internet Links
The BBC is not responsible for the content of external sites.