Senior Aircraftman James Smart: Funeral is held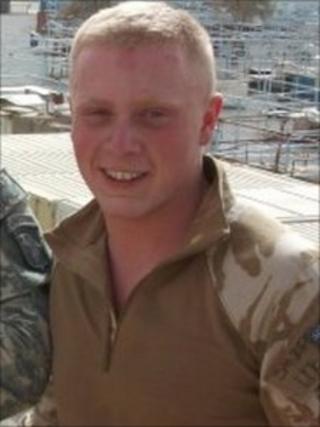 The funeral is taking place later of a Royal Air Force serviceman killed in a road incident in Italy last month.
Senior Aircraftman James Smart, 22, from Wrexham, was driving the lead vehicle in a convoy when it left the road in the Abruzzo region.
Chester-born SAC Smart, of No 2 (Mechanical Transport) Squadron, was taking supplies to UK forces involved in military action in Libya.
His funeral is taking place with full military honours in Flintshire.
Following his death on 20 July, his family described him as "a small man with a big heart".
"No one could have had a better son," they said in a statement.
"He brought joy and happiness to everyone who met him. He was proud to serve his country and died doing something he loved."
Falkland Islands
Before joining the RAF, SAC Smart was previously a member of the Territorial Army, his squadron said.
He was posted to 2 (MT) Squadron, based at RAF Wittering, Cambridgeshire, in November 2008.
Between May and September 2010, he served in Afghanistan, and was due to receive his operational medal on 1 August.
After returning from Afghanistan, he was deployed to the Falkland Islands between October 2010 and January this year.
He was on his fifth convoy in support of UK forces involved in the Libyan intervention when he died near Vasto, in southern Italy.
Last month, Defence Secretary Liam Fox said SAC Smart was providing a vital supply link for the RAF in their role protecting the civilian population of Libya.
"My thoughts go to his family and friends at this extremely sad time," he said.
SAC Smart's funeral will take place at St Deiniol's Church, Hawarden, at 1100 BST.