Family tribute to cyclist Joy Soffe, 13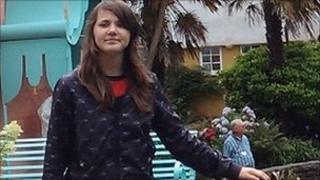 A family has paid tribute to their "beautiful daughter" after the 13-year-old cyclist died following a collision with a car in Flintshire.
Joy Soffe was on the A550 Chester Road, Dobshill, when she was involved in a collision on Friday at 15:15 BST.
Officers from North Wales Police, who are appealing for witnesses, issued the tribute on behalf of Joy's family.
The statement from her parents, sisters and brother, describe her as "Joy by name, Joy by nature".
"Joy Soffe, our pride and joy, has gone to heaven, aged 13," said the statement.
"As a friend of ours said she will be remembered for her love of nature, for her giftedness in music and sports.
Witnesses
"She loved life so much, and above all she loved Jesus.
"She didn't have time for frivolity and fashion.
"She would accept any gift with a thankful heart and would always design her own gifts for others."
The tribute from the family from Ewloe, Flintshire, said Joy died on Friday evening.
It said: "You have everything you desired in life right now; you are happy but you leave your sisters, brother, and parents in pieces.
"You now live the real life to the full, and the life in heaven is just ever expanding.
"The truth is Joy, the whole world couldn't hold your love, so to heaven you went."
Police say the three occupants of the car, a VW Golf, escaped injury.
The A550 was closed in both directions on Friday and the incident caused serious traffic problems close to the junction with the A55.
Officers are appealing to anyone who witnessed the incident to call Sgt Alun Davies on 101 (if in Wales), 0845 6071001 (Welsh language line) 0845 6071002 (English language line).