Debt fears over medieval St Mary's Church, Rhuddlan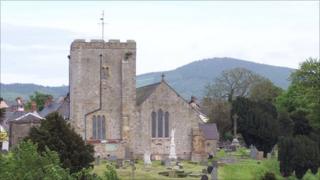 There are fears for the future of a 700-year-old Denbighshire church, a year after a £120,000 refurbishment.
St Mary's Church in Rhuddlan owes £13,500 to the diocese of St Asaph, and the debt is expected to rise to at least £20,000.
Priest-in-charge, the Reverend Peter Allsworth, said the church needed to almost quadruple its £173 weekly income to remain viable.
The Diocese of St Asaph said it had "no intention of seeing the church shut".
Despite the £120,000 restoration which was completed a year ago, the church is heavily in arrears with its parish share - a sum paid by all churches to the central diocese.
Rev Allsworth said the £13,500 debt was likely to be £20,000 by the end of the financial year.
He said the congregation of between 35 to 40 people brought in a weekly income of about £173 a week. However, to guarantee the church's survival, he said an income of about £650 a week was needed.
He said: "At the moment, the church is not paying its way.
"It needs an income of at least £30,000 a year, and more realistically £40,000 a year.
"We're trying to raise awareness in the community because I imagine there are people who don't regularly worship in the church but do expect it to be there for weddings and christenings, and who would be sorry to see it close through lack of funding."
Rev Allsworth said the diocese would do all it could to help, but warned that without sufficient income, the church's position could eventually become "untenable".
On top of its existing money worries, he said the church was likely to need a new roof in the next few years, costing about £100,000.
He added: "A lot of people have the impression that the church is rolling in money. That certainly isn't the case with the Church in Wales."
A spokesperson for the Diocese of St Asaph said: "The diocese is working alongside St Mary's Church, Rhuddlan, and has already met with church leaders to discuss ways we can move forward together.
'Gone mad'
"We're confident about the future of St Mary's and there is certainly no intention of seeing the church shut down."
A series of fund-raising events have been planned locally to try and pay the church's bills.
Local resident, Brenda Taylor, said: "This church has only just had renovation works done, costing over £120,000 - has everyone gone mad?
"St Mary's is over 700 years old, it's in debt, and if we don't do something about it, it will be closed inside 12 months.
"Even if you don't go to church regularly, we all need it for births, marriages and deaths."
It follows a sit-in being held by Rhondda villagers opposed to the closure of All Saints in Maerdy, with the church facing a £400,000 repair bill.
The Church in Wales has said it needs £12m a year to repair its 1,000 listed churches.