Wrexham Supporters Trust urged to seal club takeover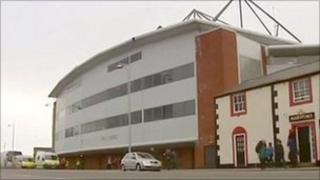 Wrexham Supporters' Trust (WST) has been told to complete its takeover of Wrexham FC "sooner rather than later".
The target date of 1 July has passed without a deal being completed and the club's directors have called for action to be taken.
The directors are pulling out of the Blue Square Bet Premier side, blaming fan abuse, and say they have no more funds to put in.
WST said they were still in negotiations to buy the club for £1.
The club was put up for sale earlier this year and the Trust have been interested in taking over from the start.
It was part of a joint bid with local hotelier Stephanie Booth before she withdrew her offer to buy Wrexham FC, saying she had received death threats.
Then in May, businessman Colin Poole pledged cash for a takeover with the WST having a 25.1% share, before he also pulled out after what he called a confrontation with some fans.
Full takeover
Since then, WST have been in talks over a full takeover putting the club into community ownership.
"Negotiations with the trust initially moved forward at a brisk pace and season tickets were put on sale with the agreement of the trust," said a Wrexham directors' statement.
"The revenue is used by all clubs to cover off season staff and other costs when there is little other income.
"Agreement was also given by the trust to Dean's (Saunders) playing budget for the 2011/12 season and players recruited on the back of this.
"Financial and legal due diligence has been undertaken by the trust and their teams of accountants and solicitors. Full compliance from ourselves and our staff has been given.
"After announcing our departure the directors stated that there are no further funds to support the business.
"The trust have been advised that they would need to take over sooner rather than later, as it is creating a vacuum regarding moving the business on in terms of sponsorship, as well as on field and off field planning.
"The business turnover is circa £1.6m and the acquisitional cost is £1.
"Due diligence has been done and the target handover date of 1 July has passed. The new season is around the corner and it is now therefore time for action, one way or another."
But Richard Green, WST chief executive, said: "WST is not interested in inflating this matter because we are still in negotiations with them."