Bodelwyddan protest over plans to build 2,000 new homes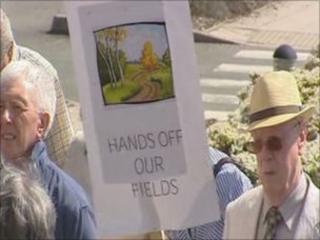 Welsh language campaigners joined residents at a rally to oppose plans to create 2,000 new homes in the Denbighshire village of Bodelwyddan.
In May, councillors voted in favour of catering for the majority of the county's future housing needs in the community.
Denbighshire council said there had been a "vast amount of consultation" before the proposals were agreed.
The plans have been submitted to the Welsh Government.
Welsh Language Society members and residents protested outside Denbighshire council offices in Ruthin on Saturday.
"Our Welsh language communities are at risk of disappearing forever partly because of plans like this," said Hywel Griffiths, the society's communities spokesperson.
Residential home
"Developments like this for commuters once again demonstrate the major flaws in the planning process."
The council has said previously that it carried out a community linguistic impact assessment as people were concerned the Welsh language could be affected.
The Bodelwyddan population of 1,000 could increase six-fold under the proposals which form part of Denbighshire's local development plan (LDP).
The scheme covers 100 acres (40.5 hectares), and also includes a school, residential care home and improved access to the A55.
Householders who formed the Bodelwyddan Action Group also took part in the protest.
Their opposition is backed by Plaid Cymru's North Wales AM Llyr Huws Gruffydd.
Denbighshire council's LDP has been submitted to the Welsh Government.