Ifor Williams Trailers pay strike called off by Unite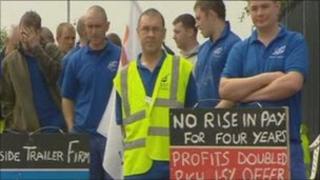 Workers at a Flintshire trailer manufacturer have called off further industrial action in a pay dispute.
Nearly 40 members of the Unite union at Ifor Williams Trailers on Deeside were due to begin another two-day strike on Thursday.
But after talks involving the concililation service Acas, they suspended the action while a ballot was held.
They narrowly voted to accept an improved offer from the company.
Unite official Tony Brady said the improved offer had been accepted by a majority of just five votes.
Further pay talks would begin next February, he said.
"We've accepted it on the basis that the company is going forward. It's a successful business and, at the end of the day, nobody wants to be on strike."
Workers held a two-day stoppage last week following three one-day strikes over the past two months.
A spokesman for Ifor Williams Trailers Deeside said: "We are naturally pleased that the pay offer has been accepted today, particularly at a time, when uncertain market conditions continue to impact our manufacturing production at Deeside."