Muslims and Christians in Shotton show 'solidarity'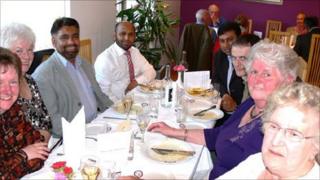 A group of Christians and Muslims have shared a meal to show "solidarity" in an area that has seen protests about plans for an Islamic cultural centre.
The event, Sharing Tables, Sharing Stories, was held at the Bengal Dynasty restaurant, Shotton, Flintshire.
Organiser Mike Harrison said it showed harmony was possible in Shotton.
Last month, English Defence League protesters marched at the former Shotton Lane Social Club, proposed site for the new cultural centre.
Flintshire Muslim Cultural Society had been planning to turn the property into a multi-cultural centre.
The building burned down in a suspicious fire in February.
Tuesday's event was organised by a local volunteers group, Together Creating Communities.
North Wales organiser Mr Harrison said: "This gathering demonstrates that despite the perceptions voiced in some sections of the media, Christians and Muslims can stand together.
"We hope that Sharing Tables, Sharing Stories will be the first step in showing protest groups that a multi-faith community can live together in harmony in Shotton."