Wrexham Supporters' Trust takeover bid is back on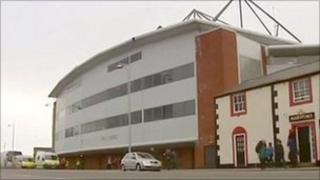 A bid by Wrexham Supporters' Trust (WST) to take over the town's football club is back on.
It has emerged that they restarted negotiations after a cash backer pulled out following a confrontation with fans.
In a joint statement with the club, WST said the terms could see the ownership transferring to the community.
The deal is being thrashed out behind the scenes ahead of a press conference due to be held on Friday.
On Monday it emerged that businessman Colin Poole who had been pledging cash backing for a takeover at Wrexham FC had pulled out after what he called a confrontation with some fans.
Mr Poole is a former Shrewsbury Town chief executive, a disqualified director and former head of the insurance firm Claims Direct who was recently struck off the solicitor's roll by the Solicitors Disciplinary Tribunal.
'New dawn'
Confirmation of his withdrawal prompted Jon Harris, who was announced as the club's new managing director last week, to say he was looking to replace Mr Poole's level of support from other sources.
Then it emerged that WST was back at the table as it has been bidding to takeover at the Blue Square Premier club since March.
The joint statement said WST is hopeful the outcome of the negotiations will "result in an exciting new dawn for the club".
It goes on to say any deal will be subject to approval by WST members, although a meeting with them may not be held until early June.
WST spokesman Terry Heath said: "This club needs to be able to move forward."
He explained that a community-run club is able to "bring in other streams of funding" a private company could not do.
Last week, WST members voted to continue with a community share issue to enable them to raise funds to buy the club "whether it's next week, next year or five years from now".