Wrexham backer Colin Poole pulls out over confrontation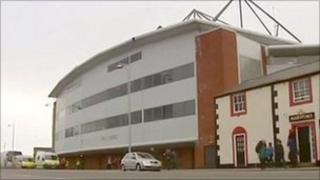 A businessman pledging cash backing for a takeover at Wrexham FC has pulled out after what he called a confrontation with some fans.
But Jon Harris, who was announced as the club's new managing director last week, insists the sale is continuing despite Colin Poole's withdrawal.
Mr Harris said the deal was not dependent on Mr Poole.
He issued a statement saying Mr Poole was pulling out after the confrontation with supporters at the weekend.
Mr Harris, the club's former commercial director, is meeting one of the outgoing owners, Geoff Moss, and Wrexham manager Dean Saunders on Tuesday to discuss the situation.
Mr Poole, a former Shrewsbury Town chief executive, is a disqualified director and former head of the insurance firm Claims Direct who was recently struck off the solicitor's roll by the Solicitors Disciplinary Tribunal.
On the fans' website Red Passion, Mr Harris said Mr Poole had pulled out "due to the actions of a few misguided individuals".
Mr Harris said those fans "may think this is a victory but... [they] have once again driven someone away from this club who had the experience and resolve to make a real difference".
He reiterated his comments made at a press conference last week announcig the sale of the club, saying that Mr Poole's financial role was "peripheral" and the deal was "not dependent on him".
He said he would be looking to replace Mr Poole's level of support from other sources.
Last week, Wrexham Supporters' Trust (WST) members voted to continue with a community share issue to enable them to raise funds to buy the club "whether it's next week, next year or five years from now", according to spokesman Spencer Harris.
They want to run the Blue Square Premier club run as community venture.