Wrexham Supporters' Trust push on with takeover plans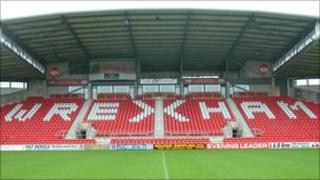 Wrexham Supporters' Trust (WST) is pressing on with plans to take over the club, despite the announcement that it is to be sold to commercial director Jon Harris.
At a packed open meeting on Tuesday evening, WST members voted to continue with a community share issue to enable them to raise funds to buy the club.
They want to run the Blue Square Premier club run as community venture.
But the new owner is offering them a stake in the business.
WST spokesman Spencer Harris said the trust board believed there was uncertainty surrounding the agreement by Wrexham's owners Geoff Moss and Ian Roberts to sell the club to former commercial director, Jon Harris.
Mr Harris has financial backing from former Shrewsbury Town chief executive Colin Poole, a disqualified director and former head of the insurance firm Claims Direct who was recently struck off the solicitor's roll by the Solicitors Disciplinary Tribunal.
When news of the takeover was announced earlier this week, Jon Harris asked supporters "to give us all a chance to prove our commitment to the future of the club".
Successful
Spencer Harris said fans were disappointed that WST's own bid to take over the club had been rejected.
"If this deal falls through, we shall have to see what happens, but we'll be ready," he said.
"Whether it's next week, next year or five years from now, Wrexham FC will ultimately be owned by the fans."
Mr Harris denied that the supporters' trust had been offered a 50.1% stake in Wrexham, giving hem effective day-to-day control.
"We've been offered a 25% stake with a seat on the board, but we have been given no detail of what that includes," he said.
Among the speakers at Tuesday's meeting was David Boyle, chief executive of Supporters' Direct who cited Wimbledon and Exeter City as successful examples of community-run clubs and also said 16 of the top German clubs were owned by fans.
Week In Week Out looks at the takeover at Wrexham FC. It is broadcast at 2245 BST on Wednesday 18 May on BBC One Wales.