Bersham coal tip redevelopment plans outlined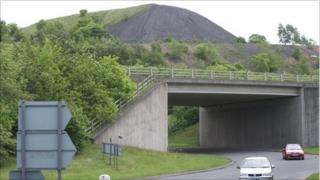 One of Wrexham's most famous landmarks could eventually be replaced by homes or businesses.
Bersham Glenside Ltd hopes to start moving six million tonnes of spoil from the Bersham Colliery tip within months, which may take nine years to complete.
The company says the site has a "multitude" of uses although it has yet to decide on specifics.
It has submitted proposals for a mixed use development and hopes for a decision to be made by March 2012.
The Bersham mound is made up of tonnes of spoil from the mine which closed down in 1986, putting 300 miners out of work.
Wrexham council previously refused permission to remove the tip and historic monuments agency Cadw also recommended that it be preserved.
However, the Welsh Assembly Government confirmed last year that Bersham Glenside Ltd had won its appeal to start clearing the site.
It is expected to take between seven and nine years to clear, because of the sheer scale of the spoil heap.
Once cleared, its future remains unknown, but Glenside Bersham Ltd claims the site's "strategic position", next to the A483, makes it suitable for a variety of possibilities.
Mike Killet, the company's technical director, said: "We're saying it's a pretty broad brush.
"We put forward our proposals for a mixed use designation. A decision is expected in March 2012.
"Mixed commercial and residential use could be considered, possibly employment land.
"There's a multitude of things you could do if you had planning permission."
Mr Killett said he hoped clearance work would begin this summer, adding: "There are lots of pre-start planning conditions to satisfy.
"Various surveys have been done. Once they have all been looked at and everything's been satisfied, we can start.
"I would think we're talking about making a start probably in August or September."