Iceland food tycoon Malcolm Walker achieves Everest aim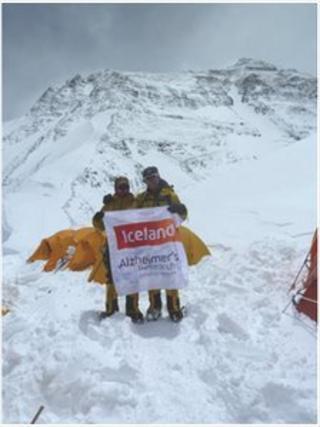 The founder of Flintshire-based food chain Iceland and his son have achieved their goal of climbing Everest's 23,000ft-high (7010m) North Col.
Malcolm Walker, 65, and Richard, 30, are returning to the UK after their fundraising expedition.
The pair are aiming to raise more than £1m for Alzheimer's Research UK.
"Getting to the top of the North Col was the most frightening and physically demanding thing I have ever done in my life," said Malcom Walker.
The father and son pair set out for the Himalayas at the end of March after training in the Alps and on Mount Kilimanjaro, the highest mountain in Africa.
In getting to the North Col they climbed to a higher point than the summit of any mountain outside the Himalayas and their sub-ranges.
Other members of the expedition remain on Everest.
They are preparing to reach the summit at 29,035ft (8,849m).
Malcolm Walker said he was delighted to have been able to meet the challenge he set himself at the beginning of the expedition.
"I will admit that I daydreamed about maybe going further and trying for the summit itself, but this has never been a suicide mission and I knew when we arrived at the top of the North Col that I had reached the limit of my endurance," he said.
However Mr Walker said his son could have gone further.
"Richard, who has shown himself to be the strongest member of the whole expedition, could undoubtedly have stayed on to make a successful summit bid," he said.
"But he has decided that the time is right to return to his wife and daughter in England.
"We both wish our fellow climbers the very best of luck in returning to the North Col and going on to the summit."
Rebecca Wood, chief executive of Alzheimer's Research UK, said: "This is such a terrific achievement and an inspirational way to launch our year-long partnership with Iceland.
"It shows the lengths Malcolm Walker will go to in supporting research into early-onset Alzheimer's disease - right to the roof of the world.
"We are very proud of the Everest team's efforts and Iceland's commitment to raise £1 million for our world class research."